Seminaari
Luchtpark Hofbogen by ZUS / photo: Walter Herfst
People-Driven City 2019
Day: Friday the 27th of September
Location: Dipoli Aalto University, Otaniemi Espoo
Time: 9–17 (TBC)
Languages: main language English, some talks and workshops in Finnish
Tickets: full price 159€ VAT incl. – Early Bird 99€ (July–August) via Eventbrite
Coming to the conference with a group? Please contact us for ticket offers for groups (min. 5 tickets): seminaari(at)lahiofest.fi
Students may apply for a sponsored ticket 0€ by contacting the organisers: seminaari(at)lahiofest.fi
Want to join the team making People-Driven City? Volunteers who would like to help us with practicalities at the venue can contact us: info(at)lahiofest.fi
Follow: Facebook 'People-Driven City'
(lyhyesti suomeksi alempana)
Rojkind Arquitectos – Cineteca / Photo © Jaime Navarro
How do we create more inclusive urban spaces in an increasingly complex urban context?
How can citizens learn and gain better understanding about their cities – and vice versa? 
Crowdfunding and public projects – match made in heaven or road to chaos?
Is a desirable, sustainable and also affordable neighbourhood an utopian dream?
How do we empower locality in a fast growing, ever-changing city?
'People-Driven City' is the main conference of 'Lähiöfest' – festival of neighbourhoods. In 2019 Lähiöfest takes place in four different Finnish cities: Espoo, Riihimäki, Kauniainen and Helsinki. Findings and learnings of the festival will be shared and digested during the conference – this year located in Dipoli, the beautiful gem of the architectural couple Raili and Reima Pietilä at the campus of Aalto University.
Expect a whole day of inspiring keynote speakers, engaging discussions and workshops on urgent urban topics and interesting case studies from cities around the world.
urbz – Delta V participatory neighbourhood plan
Programme
The programme of People-Driven City will be published by the beginning of September. Here is a tentative schedule of the day. 
Morning: Keynotes 
Tuula Antola / City of Espoo
Kimon Moerbeek / Kennisland
Elma van Boxel & Kristian Koreman / ZUS
Amin Khosravi / Urbz
Afternoon: Keynotes
Christina Lindbäck / NCC
Michel Rojkind / Rojkind Arquitectos
Afternoon: Fireside Chats 
Kimon Moerbeek / Kennisland, Saku Tuominen / HundrED, Heidi Backman / City of Kauniainen
Ahmed Abdirahman / Järvaveckan
Maria Derlõš / Linnalabor, Tanja Jänicke / Yhteismaa, Päivi Raivio / RaivioBumann, Niko Riepponen / City of Espoo
Afternoon: Round Tables, Workshops & Open Master Classes
options TBA
All Day: Exhibitions, Presentations & Live Performances
all day at Dome of Visions and the aula of the main hall
Evening: Tours, Open Doors and After Party
The official programme ends by 4 pm. Our partners will offer possibilities to visit various locations at Aalto Campus and Otaniemi between 4 pm and 6 pm.
ZUS – Luchtsingel / Photo © Ossip van Duivenbode
Keynote Speakers
We are happy to introduce our brilliant speakers!
Michel Rojkind
Architect and Founder / Rojkind Arquitectos, Mexico City
Michel Rojkind was born in Mexico City, where he studied Architecture and Urban Planning at the Universidad Iberoamericana (1989-1994). In 2002 he founded Rojkind Arquitectos, a firm focusing on design, tactical and experiential innovation.
While addressing the challenges of contemporary life, his goal is to design compelling architectural and urban planning solutions that go beyond mere functionality and become integral experiences that connect the intricacies of each project at a deeper level and positively impact our society and the environment.
Michel Rojkind has been a visiting professor at the Southern California Institute of Architecture (SCI-Arc) in L.A., the Institute for Advanced Architecture of Catalonia (IACC) in Barcelona, the University of Pennsylvania (UPenn) and the Aalto University, Finland.
The New York Times named Michel Rojkind as part of "A Generation of Architects Making Its Mark at Dizzing Speed" in 2017. In 2010, Rojkind was named as one of the "Country's Treasured Architects" by the Mexican Civil Registry.Michel Rojkind has currently joined The We Company as Senior Vice President of architecture, leading all of WeWork construction projects.
Michel Rojkind has been invited to People-Driven City by our content partner Aalto University.
Kimon Moerbeek
Director and Education Advisor / Kennisland, Amsterdam
Kimon Moerbeek, a true Amsterdam native, was born and raised in the Jordaan district. In his youth he lived in many other areas of the capital, from the Kinkerbuurt neighbourhood to the Bijlmer, from Bos en Lommer to Oud-Zuid. He has settled with his family in Amsterdam-Noord. He studied sociology at the University of Amsterdam and graduated with a research master in social sciences.
Kimon Moerbeek leads the KL team together with Nora van der Linden. He works on new ideas, programmes and partnerships that contribute to social innovation; stimulating people's capacity to improve their own environment is particularly important to him. This applies especially to education, but also to other areas.

With his Education Pioneers initiative, he contributed to the founding of the Teachers' Development Fund.++Teachers' Development FundEducation Pioneers was an answer to top-down innovations in education, where teachers are often not involved and experience a lack of professional space. After seven years and more than 200 Pioneers, the initiative has won an enduring place in education within the framework of the Teachers' Development Fund (LOF).
Besides Education Pioneers, Kimon has developed various programmes for teachers, school leaders and educational organisations. He has contributed to several publications, such as "Labcraft: How labs cultivate change through innovation and collaboration", "Searching for innovative school leadership: from practical research to innovative school leadership" and "Education Pioneers: from complaint to solution, the teacher as innovator: from practical research to innovation by teachers".
We thank the Embassy of the Netherlands in Finland for enabling Kimon Moerbeek's visit to People-Driven City. 
Elma van Boxel & Kristian Koreman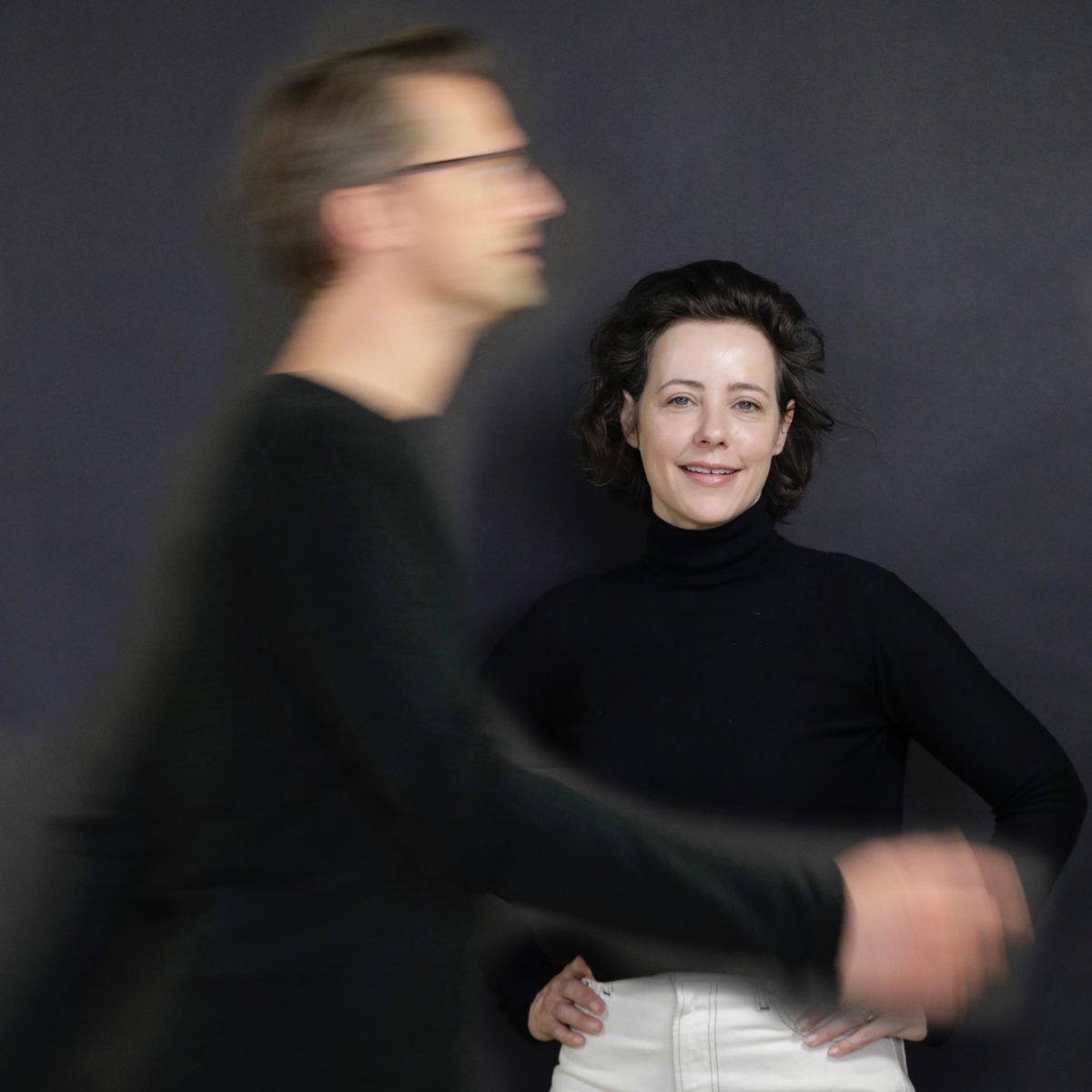 Architects and Founders / ZUS (Zones Urbaines Sensibles), Rotterdam
Elma van Boxel and Kristian Koreman are the founding partners of ZUS [Zones Urbaines Sensibles]. Since starting in 2001, ZUS practices architecture, urban planning, and landscape design, pushing the boundaries between these different domains. ZUS contributes to the changing urban landscape through its dedication to architecture's public role.
Van Boxel studied Landscape Architecture at Larenstein University, Architecture at Greenwich University, and Architecture and Urbanism at the Academy for Architecture in Rotterdam. Kristian Koreman studied Landscape Architecture at Larenstein University and Philosophy at the Erasmus University.
ZUS develops solicited and unsolicited design and research in architecture, urbanism, and landscape design. The studio consists of an international, 25-strong, multidisciplinary team, with offices in Rotterdam and New York. It has realised groundbreaking projects over the last years, such as the Luchtsingel, a crowdfunded airwalk in Rotterdam, and Dune, a new urban district in Almere, acclaimed as the architectural highlight of 2017 by critic Bernard Hulsman of the NRC newspaper.
The work of ZUS / Van Boxel and Koreman has been widely exhibited, including the Guggenheim, New York, the Venice Biennial, the V&A, London, and the Istanbul Modern, and will have their first retrospective at Museo d'Antioquia in Medellín, Colombia. Their unsolicited advice and interdisciplinary work led to them winning the 2007 Maaskant Prize for Young Architects, being named Architect of the Year in 2012, receiving the Urban Intervention Award Berlin, being finalists for the European Prize for Public Space in 2016, and being nominated for the Mies van der Rohe Award in 2017.
We thank Finnish Cultural Institute of the Benelux and the Embassy of the Netherlands in Finland for enabling ZUS's visit to People-Driven City. 
Amin Khosravi
Urban Strategist and Partner / urbz, Geneva
Amin Khosravi is Partner at urbz and Association President at Impact Hub Geneva. He has more than 10 years experience as a specialist in urban development. Originally from the United Kingdom, he studied at University of Manchester and RMS Erasmus Universities / Rotterdam School of Management. He has worked as Investment and Regeneration Manager in Nottingham and as Advisor on London Thames Gateway Project, among others.
Since 2016 Amin Khosravi has worked as urban strategist at urbz, an experimental collective that specializes in participatory planning and design. urbz facilitates and devises participatory processes specific to the context of each and every project in order to create the right conditions for cocreation between citizens, users and stakeholders. Currently it has offices in Geneva, Mumbai, Bogota, Sao Paolo and Seoul.
urbz has been invited to exhibit its work at the Design Biennal, Istanbul (2008),  MoMA in New York (2013 & 2014), MAK in Vienna (2015), Chicago Architecture Biennale(2015), CAPC in Bordeaux (2016), HDA in Graz (2016) and the MAXXI in Rome (2016), The Art Center at the International School of Geneva (2016) and Dr. Bhau Daji Lad Museum in Mumbai (2017).
Amin Khosravi works creatively across a wide variety of themes relevant to cities and people such as housing, economic development, public space, culture, participatory governace and sustainability. He is fundamentally interested in the relationship between people and their environment.
We thank Archinfo for enabling Amin Khosravi's visit to People-Driven City. 
Christina Lindbäck
Senior Vice President Corporate Sustainability / NCC, Stockholm
NCC's SVP Corporate Sustainability Christina Lindbäck has been ranked as one of the most influential people in sustainability in Sweden.
bio coming up 
Case Studies, Interviews & Discussions
Apart from inspiring keynotes speeches, People-Driven City offers engaging case studies and interviews. Here are some of the guests participating in discussions:
Ahmed Abdirahman
Founder of Järvaveckan, Social Sustainability Expert at Stockholm Chamber of Commerce / Stockholm
Maria Derlõš
Project Manager and Lasnamäe Community Activist / Linnalabor, Tallinn
Saku Tuominen
Founder and Creative Director / HundrED, Helsinki
Tuula Antola
Director of Economic Development / City of Espoo
Heidi Backman
Director of Education and Culture / City of Kauniainen–Grankulla
Päivi Raivio
Designer, Placemaking Expert and Founder / RaivioBumann, Helsinki
Niko Riepponen
Participation Designer / City of Espoo
Tanja Jänicke, Designer and Founder / Yhteismaa, Helsinki
more TBA
Thank you
'People-Driven City' is made possible with the kind support of our partners.
Content Partners
Embassy of the Netherlands in Finland    
Finnish Cultural Institute for the Benelux   
The Swedish-Finnish Cultural Foundation 
Museum of Finnish Architecture
Lähiöfest2019 Partners
Host City & Event Cities
Main Partners
Campaign City
Programme Direction & Production
Urban Practice reserves the rights to any changes in the program.
City professionals and enthusiasts from near and far – welcome to PEOPLE-DRIVEN CITY and the city of Espoo!
/////////////////////
Kansainvälinen huippuseminaari kaupungeista tuo Dipoliin Espoon Otaniemeen kiinnostavimmat esimerkit maailmalta ja meiltä kestävästä kaupungin kehittämisestä, paikallisuuden vahvistamisesta, osallisuudesta ja tulevaisuuden visioista.
Tule inspiroitumaan huippupuheista, keskusteluista, työpajoista ja tietenkin Aallon kampuksen ainutlaatuisesta arkkitehtuurista!
Ensimmäiset puhujat on julkistettu! (ks. ylempänä)
Urban Practice pidättää oikeudet ohjelmamuutoksiin.
Kaupunkien tekijät ja rakastajat kaikkialla – tervetuloa PEOPLE-DRIVEN CITY -seminaariin Espooseen!

Seuraa tapahtumaa Facebookissa